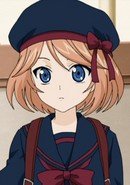 Emi Sendo is the little sister of
Aichi Sendo
. She is first introduced in
Episode 3
, and is also introduced to
Vanguard
in the same episode. She is very much like a mother, like getting Aichi ready for school in the morning, and making sure he gets home at a reasonable time. She also has a tendency to overreact.
She attends Miyaji Academy, a girls-only private school.
In her first Vanguard fight in Episode 15, Misaki lets Emi use her Oracle Think Tank deck.
Ad blocker interference detected!
Wikia is a free-to-use site that makes money from advertising. We have a modified experience for viewers using ad blockers

Wikia is not accessible if you've made further modifications. Remove the custom ad blocker rule(s) and the page will load as expected.