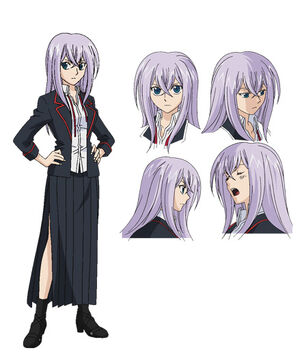 Misaki Tokura ( 戸倉ミサキ) is the niece of
Shin Nitta
, the owner of the Card Capital card shop. She occasionally watches the counter for him when he is not around. She knows a lot about
Vanguard
, but never played until
Episode 4
, and she later becomes friends with
Aichi Sendo
and the others.
Biography
Edit
Before, Misaki had never played Vanguard before, but knew about it from watching others play the game. One day, her uncle Shin Nitta (who is also the manager of the Card Capital) has her battle Aichi Sendo with a special deck he made for her. She won because she had knowledge of Grade 3's and Aichi did not. Afterwards, they befriend each other, even commenting on other people's battles.
She decides to enter the card shop tournament, making it to the semi-finals. She fought Kai, but was defeated by him after he made her used up her hand. She is then announced as one of the players competeing in the regional tournament.
In episode 15 she lends her deck to Emi to use in a Vanguard Fight against Morikawa, while commenting on the fight.
During the regionals she does not compete, as she had something else to do. She makes it in time for the final match, but does not fight, letting Aichi take her place. Afterwards she and the rest of the team are given medals for winning the tournament.
She accompanies Aichi and Kamui to the PSY cardshop at the request of her uncle, though she did not want to go. During the maqtch between Ren Suzugamori she and Sukio explain to Aichi and Kamui about the tactics Ren uses.
In episode 24 it is revealed Misaki was into Vanguard by her parents. However before she was taught how to play they died in a car accident. This caused Misaki to not want to play the game. When Kamui suggest on studying the deck Ren used, Misaki notes several errors with the deck he brought, causing Aichi to point out that she has good memory. Kamui later suggest Misaki and Aichi fight each other to develop their own style of playing. During the match as Aichi and Kamui comment on Misaki's memory she starts remembering about the death of her parents, causing her to lose her cool and breathe heavily. After she defeats Aichi she declares she will not fight with him or Kamui anymore.
In episode 25, Emi pay's a visit to Card Captial to cheer Misaki up. Misaki is still feeling upset, just ignores her, but Emi challenges her to a Cardfight. Misaki does not have her deck as she left it behind last episode. Shin however give her and Emi new starter decks of advanced Units. He gives her a new Nova-Grappler deck while he gives Emi a new Orcale Think Tank deck. The fight begins and it goes both ways, attracting a small crowd. During the fight, Misaki starts to remember the good times she had with her parents, such as when she called Folgal a pink doggy, but is corrected by her father, or when her parents have a Vanguard fight, evenutally causing everyone to laugh from the banter. She defeats Emi, who had fun, but then let's Shin know she doesn't have the key to a box her parents left her. Shin pulls it out and gives it to Misaki, who uses it to open the box.
The next day Aichi and Kamui came to Card Captial to apologize to Misaki, but see she has defeated every person in the shop. Now in a better mood, she challeneges Aichi to a Cardfight, which he accepts. She also starts wearing the key around her neck to remember her parents that died happily.
Misaki's deck foucus on using female units that can allow her to look at her deck or her opponent's deck. This gives her an edge in many fights.
Oracle Guardian Hermes
Silent Tom
| | |
| --- | --- |
| Opponent | Outcome |
| Aichi Sendo | Win |
| Kastumi Morikawa | Win |
| Female Cardshop Opponent | Win |
| Kai Toshiki | Lose |
| Aichi Sendo | Win |
| Emi Sendo | Win |
| Aichi Sendo | Not Shown |
| | |
| --- | --- |
| Team Jurassic Male Member | Lose |
| Asaka | Lose |
| Team Fragrance Female Member | Win |